Color Management Resources
Choosing the Right Monitors for a Color Management System
What is a Color Management System (CMS)?
Why do colors vary between different output devices?

Sometimes color reproduction varies between different input devices such as digital cameras and scanners, or between different output devices such as monitors and color printers.

When using your monitor to edit and retouch an image you have generated and then printing that image, different colors might be output by different devices, even though these devices are processing the same data. Each device—an inkjet printer, a color copier, or professional printing equipment, even in offset printing—has its own color characteristics and tendencies. The color management system, or CMS, has been developed as one method of resolving such color inconsistencies.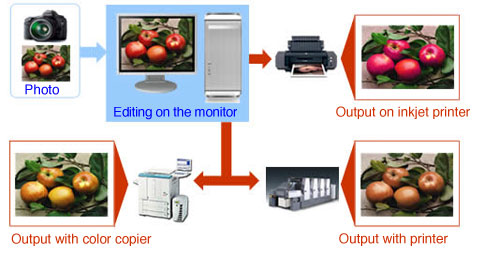 A CMS is designed to enable uniform reproduction of colors on all devices.

A CMS is an integrated system to enable uniform reproduction of colors from input through output, taking into consideration the color characteristics and tendencies of each device.

Building a CMS system starts with preparing profiles containing data on the color characteristics of each device. Some color profiles are provided standard by device manufacturers, but when higher precision is required a CMS tool can be used to prepare such profiles. These profiles can be used with the color engines included in personal-computer operating systems and other programs to share colors between devices.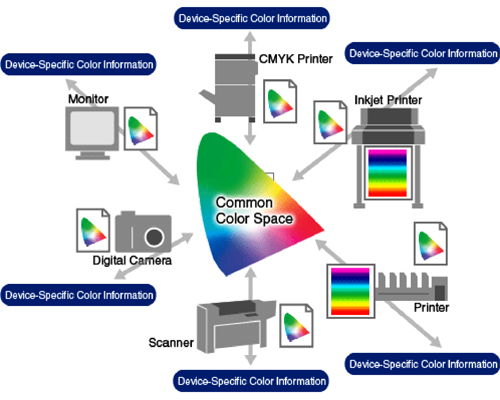 Benefits of adopting a CMS

When implementing color management, a profile is required for the monitor used. A personal computer's OS can be set to prepare the optimal profile as of each time calibration is conducted. This feature makes it possible to improve the precision of color management.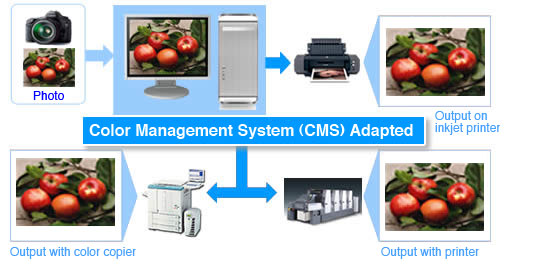 Since the colors displayed on the monitor will be the same as those of the final output, the monitor must be capable of accurate color reproduction.

When using a CMS, images can be printed exactly as they appear when edited on the monitor. Accordingly, the monitor plays a very important role.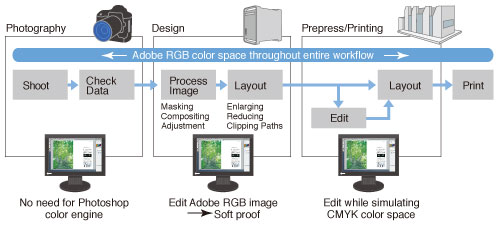 If a CMS is used to enable unified color reproduction in all processes of a workflow, paper output (proofs) is unnecessary. In addition, since color matching in each process is no longer required, a CMS can result in improvements in operational efficiency and precision.