Compatibility
Dual Monitor Configuration Chart of EIZO Touch Panel Monitors
Applicable Monitors: FlexScan T2351W, T1751, T1721, L761T-C, L760T-C, L560T-C, T1501-B, T1502-B, T1502, T1501, L363T-C, L362T-CS, L353T-C, L352T-C
Secondary Monitors
L761T-C
L560T-C
L363T-C
L353T-C
L760T-C
L362T-C
L352T-C
T1721
T1501-B
T1501
T1502-B
T1502
T2351W
T1751
Standard
Monitors
Primary Monitors
L761T-C
L560T-C
L363T-C
L353T-C
Yes
Yes, No1
No
No
No
No
Yes
L760T-C
L362T-C
L352T-C
Yes, No1
Yes
No
No
No
No
Yes
T1721
No
No
No
No
No
No
Yes
T1501-B
T1501
No
No
No
Yes
Yes
No
Yes
T1502-B
T1502
No
No
No
Yes
No
No
Yes
T2351W
T1751
No
No
No
No
No
No
Yes2
Standard Monitors
Yes
Yes
Yes
Yes
Yes
Yes3
–
1 Touch panel driver MT7: Yes, TouchWare: No.
2 With Windows 7 only.
3 With Windows 7 only. Tablet PC setting is necessary. (See the next section for the setting details.)
4 The listing includes discontinued models.
Tablet PC Setting Procedure (Windows 7 only)
1. Select "Tablet PC Settings" in "Control Panel".

2. Click "Setup".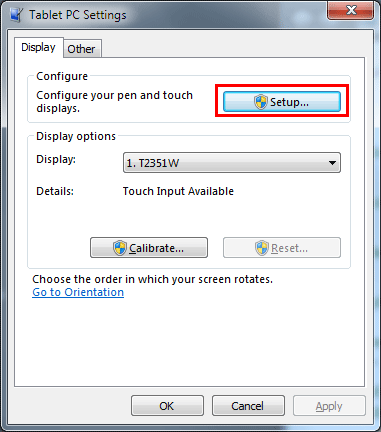 3. Then the following message appears. Touch the monitor screen.
For the standard (primary) monitor, click "Enter" to finish the setup.

4. Then the secondary monitor is identified as a touch panel monitor.