23.5" (59.8 cm) Gaming Monitor
Always on Target
Everything looks smoother on the world's first 240 Hz gaming monitor. The fluid motion combined with low input lag and color presets from professional gamers ensure a can't-miss experience whether you play first-person shooter, fighting or other fast-action genres.
Features

Specifications

Documents

Accessories

Awards & Reviews
Ultra Smooth Gaming with Turbo 240
| | |
| --- | --- |
| Experience fluid gameplay free from motion blur with the gaming industry's first 240 Hz monitor. EIZO's Turbo 240 converts 120 Hz input signals to 240 Hz for a refresh rate double that of conventional gaming monitors so you can enjoy the smoothest motion display yet for first-person shooter, racing, and other fast-action genres. | |


White Paper: Technology behind the Turbo 240 feature [PDF: 758 KB]
Quick Scoping with Extremely Low Input Lag
Input lag, or the time it takes for commands from a keyboard, mouse, or controller to appear on the screen, can be the difference between hitting your target and missing it. EIZO developed its own integrated circuit to ensure your commands appear onscreen without delay.


Download Pro Gamer's Preset
Play like the pros with gaming presets from pro gamers such as Counter-Strike legend Patrik "cArn" Sättermon and Dota 2 player Johan "n0tail" Sundstein. Download the "G-Ignition" software from our support page to apply these and other presets from gaming.eizo.com or to export your own presets.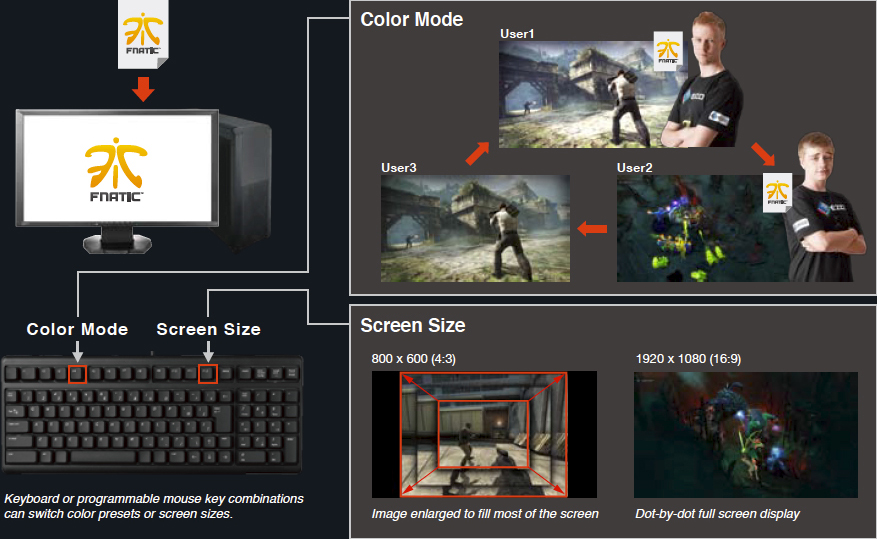 Clear Visibility with High-Contrast VA Panel
The FORIS FG2421 uses a new VA (vertical alignment) panel with a native contrast ratio of 5000:1. This is 5 times more than what other gaming monitors offer and increases the visibility in dark scenes so you can spot enemies more quickly.

Easy on the Eyes

Turbo 240 significantly reduces motion blur for clear visibility in FPS and other genres. Disabling Turbo 240 activates produces flicker-free images to reduce eye fatigue. By using the bundled ScreenManager Pro for Gaming to assign a preset mode to each program, you can turn Turbo 240 on and off automatically. For example, when playing a game in FPS mode, Turbo 240 will be activated, but when using your browser in Web mode, Turbo 240 will be deactivated.

Flickering image (left) and smooth image display (right)
Getting Connected


Best Positioning

Designed for Gaming
The rear cabinet design features an LED backlit EIZO logo on a glossy surface surrounded by a vermillion frame. The logo glows brilliantly in a dimly-lit room or in a tournament setting. The front cabinet has a simple design so you can focus on the screen.
Built to Last Five Years
| | |
| --- | --- |
| EIZO's five-year warranty is two years or 67% longer than the standard three-year warranty of most brands. | |
Cabinet Color
Black
Panel
Type
VA
Backlight
LED
Size
23.5" / 59.8 cm (598 mm diagonal)
Native Resolution
1920 x 1080 (16: 9 aspect ratio)
Viewable Image Size (H x V)
521.3 x 293.2 mm
Pixel Pitch
0.272 x 0.272 mm
Grayscale Tones
256 tones
Display Colors
16.77 million
Viewing Angles (H / V, typical)
176°, 176°
Brightness (typical)
400 cd/m2 (Turbo 240: OFF)
Contrast Ratio (typical)
5000:1 (15000:1 with ContrastEnhancer)
Response Time (typical)
Less than 1 ms (Turbo 240: ON, Monitor spec)
Video Signals
Input Terminals
PC: DisplayPort, DVI-D 24 pin (with HDCP)
PC / AV: HDMI x 1
Digital Scanning Frequency (H / V)
HDMI: 15 - 100 kHz, 23 - 122 Hz
DVI: 31 - 138 kHz, 59 - 122 Hz
DisplayPort: 31 - 138 kHz, 49 - 122 Hz
Sync Formats
PC: Separate
AV: -
USB
Function
1-port for monitor control
2-port USB hub
Standard
USB 2.0
Audio
Speakers
-
Input Terminals
PC: 3.5 mm stereo jack x 1, DisplayPort x1
PC / AV: HDMI x 1
Output Terminals
PC / AV: 3.5 mm stereo jack, 3.5 mm headphone jack
Sound Adjustment
Volume, Sound Level, Source (DisplayPort, HDMI)
Power
Power Requirements
100 - 120 V / 200 - 240 V, 50 / 60 Hz
Maximum Power Consumption
53 W
Typical Power Consumption
20 W
Power Save Mode
Less than 0.5 W
Standby Mode
Less than 0.5 W (Power button off)
Power Management
Power Save (VESA DPM and DVI DMPM)
Features & Functions
Preset Modes
PC / AV: User1, User2, User3, FPS1, FPS2, RTS, Web
Auto EcoView / BrightRegulator
Yes (Deafult: Disabled)
OSD Languages
English, French, German, Italian, Japanese, Simplified and Traditional Chinese, Spanish, Swedish
Others
Turbo 240, Product Information (name, serial number, resolution, operating time, etc.), OSD Menu Settings, DisplayPort/HDMI Color Space, Rear Logo Light, Adjustment Lock, Power Indicator, Auto Color, Reset
Physical Specifications
Dimensions (Landscape, W x H x D)
563.5 x 391 - 451 x 200mm
Net Weight
6.2 kg / 13.6 lbs
Height Adjustment Range
60 mm
Tilt
25° Up, 0° Down
Swivel
344°
Hole Spacing (VESA Standard)
-
Environmental Requirements
Operating Temperature
5 - 35 °C
Operating Humidity (R.H., non condensing)
20 - 80 %
Certifications & Standards (Please contact EIZO for the latest information.)
CB, TUV/GS, CE, cTUVus, FCC-B, Canadian ICES-003-B, TUV/S, PSE, VCCI-B, TUV/Ergonomics, C-tick, GOST-R, RoHS, WEEE
Supplied Accessories
AC power cord, signal cable (DisplayPort - DisplayPort), USB cable, audio cable, EIZO LCD Utility Disk (PDF user's manual), cable holder, setup guide
Warranty
Five Years
2 With current LCD technology, a panel may contain a limited number of missing or flickering pixels.
5 If the monitor is left on continuously over a long period of time, dark smudges or burn-in may appear. To maximize the life of the monitor, we recommend the monitor be turned off periodically.
Brochures
Manuals
Languages
Document
Language
Size
Download
FG2421 Setup guide
English
Chinese-Simplified
French
German
2.08 MB
FG2421 User's manual
English
4.38 MB
ScreenManager Pro for Gaming User's manual
English
1.52 MB
G-Ignition Ver.1.0.2 User's manual
English
906 KB
FG2421 Setup guide
Arabic
488 KB
FG2421 User's manual
Chinese-Simplified
4.31 MB
FG2421 Setup guide
Chinese-Traditional
586 KB
FG2421 Setup guide
Czech
1.84 MB
FG2421 User's manual
Czech
1 MB
FG2421 Setup guide
Danish
1.84 MB
FG2421 Setup guide
Dutch
1.84 MB
FG2421 Setup guide
Finnish
1.84 MB
FG2421 User's manual
French
4.43 MB
FG2421 User's manual
German
4.41 MB
FG2421 Setup guide
Greek
1.86 MB
FG2421 Setup guide
Italian
1.84 MB
FG2421 Setup guide
Korean
550 KB
FG2421 Setup guide
Norwegian
1.84 MB
FG2421 Setup guide
Polish
1.85 MB
FG2421 Setup guide
Portuguese
1.84 MB
FG2421 Setup guide
Russian
1.86 MB
FG2421 User's manual
Russian
4.43 MB
FG2421 Setup guide
Spanish
1.84 MB
FG2421 Setup guide
Swedish
1.84 MB
FG2421 Setup guide
Turkish
1.84 MB
Technical Information
Online PC (Germany)

June 11, 2014

Very Good

"The Eizo EV2736W leaves nothing to be desired..."
February 24, 2014

Score: 5 stars out of 5

"...the FG2421 is perfectly up to fast-action gaming, notably thanks to its Turbo 240 mode, its ultra-high contrast and wide viewing angles."
Feb 21, 2014

FG2421 Video Review
Gaming Freaks (Netherlands)

February 19, 2014

7.9 stars - Superb gaming monitor!

"This screen is perfect in every way."
Pure PC (Poland)

February 10, 2014

Product of the Year 2013 (1st Place Gold for Monitors)
January 26, 2014

Score: 8.6 Good

"A-class monitor that is perfect for any kind of gaming, with a wealth of customizable settings to ensure you're getting the very best picture quality."
Clubic.com (France)

January 15, 2014

Rating: Excellent

"The Foris FG2421 is certainly among the best monitors gamer at the moment."
PCtipp (Switzerland)

January 2014

Rating: 4.5 / 5

"Conclusion: Eizo's FG2421 is through and through a top model, and with a street price of 649 francs not cheap. But it is worth every cent due to its excellent features, image quality, operation and the 5-year warranty."
Gamesnack (Belguim)

December 29, 2013

Rating: 80%

"The question was whether the screen makes a tangible difference to a non-pro-gamer. We can not emphasize this enough, we are not pro-gamers, but the difference is huge."
December 2013

Product of the Year 2013
PC3 Magazine (Hong Kong)

November 25, 2013

2013 Power Award
Player Magazine (Germany)

January 2014

Rating: Excellent

"With the FORIS FG2421, EIZO succeeded in brilliant performance for a gaming monitor which in conjunction with a normal gaming PC is really worth its price and sets the standard for high-speed gaming."
November 22

Rating: 9.5 / 10

"The EIZO FORIS FG2421 provides none other than THE screen for players."
Chip Online (Germany)

November 14

Rating: 93.6% / 5 stars

"The Eizo Foris FG2421 proves to test as an excellent monitor for gamers, but also benefits all other users with extremely high image quality."
ExtraHardware (Czech Republic)

November 14, 2013

We Want It! Award

"Foris FG2421 as a gaming monitor clearly scores. It succeeded in almost everything a player could want…"
Xtreme Hardware (Italy)

November 12, 2013

Gold award 4.5 stars

"With the 240 Turbo, the FG2421 is the new benchmark for gaming. That's it!"
November 07, 2013

"The overall gaming performance of the Eizo FG2421 was very good and we were pleased with what we saw. ...Being the first VA 120Hz model on the market is also an achievement and clearly it can offer some advantages over TN Film panels. "
Pure PC (Poland)

November 05, 2013

Recommended 4.5/5 stars

"The VA panel in EIZO FORIS FG2421 gives one important advantage over the monitors equipped with a TN - five times better contrast. A big surprise in the new model is also the level of ghosting, which is low, even in comparison with IPS."
01net (France)

October 31, 2013

5/5 stars

"This new EIZO monitor is a revolution. The fastest VA panel we ever tested."
SweClockers (Sweden)

October 31, 2013

Excellent award

"EIZO FORIS FG2421 is an outstanding gaming screen that does not compromise on the colors."
GameStar Magazine (Germany)

October 30, 2013

Platinum Award - 95/100

"EIZOs FG2421 impresses with a response time of less than one millisecond and the innovative 240-Hz mode as the fastest games TFT ever. Thanks to VA-Panel very good overall image quality."
October 30, 2013

Highly Recommended award 2013

"EIZO FORIS FG2421 is a small revolution in gaming monitors, combining great picture quality with speed."
October 30, 2013

10 Overall Score

"The FORIS FG2421 monitor is the new leader in the gaming market. It supports a high 240Hz refresh rate on an excellent quality VA panel making the perfect combo for gaming performance and quality. The best monitor gamers can buy. "




PC Games Hardware (Germany)

October 30, 2013

Top Technology

"The FG2421 is unprecedented in the gaming world in very high contrast and fluid image with a long warranty."