This dual height adjustable stand for EIZO 17 – 21.3" LCD monitors present a more effective means to greater productivity, enabling several applications to be viewed at once.
LS-HM1-D (for 21.3/19/18.1/17" models)
FlexScan

ColorEdge

FORIS

RadiForce

DuraVision
Features

Specifications

Documents
Supports two flat panel monitors.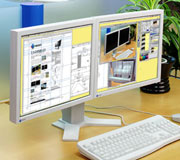 Choose from gray or black to match the cabinet color.

Tilt and swivel for easier viewing, and a horizontal slide range of 80 mm.
Height adjustment in 6 increments

Turn one or both panels 90° for comfortable viewing of web pages and text documents.
All cables can be routed through the back of the stand for a cleaner desktop.

Supported Models
LS-HM1-D (for 21.3/19/18.1/17" models)
FlexScan
Widescreen Format
20"
EV2023W
Square Format
21.3"
S2133, S2100, L997, L985EX
20.1"
S2000, L887, L885
19"
S1961, S1933, S1932, S1931, S1923, S1921-X, S1921, S1911, S1910, S1903, S1902, S1901, M1900, L797, L795, L788-i, L788, L768, L767
18.1"
L695, L685EX, L685, L665
17"
S1731, S1721-X, S1721, S1703, S1701-X, S1701, M1700, L578, L568, L567, L565, L557, L550
15"
S1501-B, S1501
ColorEdge
CG Series
21.3"
CG211, CG210, CG21
19"
CG19
18.1"
CG18
RadiForce
Monochrome Monitors
5MP
GX540, GX530, GS521, GS520, GS510, G51-S/-G, G51-BLG / G51-CLG, G51
3MP
GX340, GX320, GS320, GS310-BL, GS310, G33, G31-S, G31, FC-2091, FC-2090
2MP
GX240, GX220, GS220, G21-S, G21, G20-S, G20
1MP
SMD 19102, G11
Color Monitors
3MP
RX320, R31, FA-2090
2MP
RX240, RX220, RX211, RX210, RS210, R22, R21, MX215, MX210, FlexScan S2100-M, FlexScan MX210
1MP
RS110, R12, R11, MX191, MS170, FlexScan S1910-M, FlexScan MX190S, FlexScan MX190
| | |
| --- | --- |
| Cabinet Color | Black, Gray |
| Compatible Monitor | |
| Load Capacity | 3.5 - 9 kg / 7.7 - 19.8 lbs |
| Hole Spacing (VESA Standard) | 100 x 100 mm |
| Range of Movement | |
| Height Adjustment Range | 75 mm, 6 stages (0 / 15 / 30 / 45 / 60 / 75 mm) |
| Tilt | 40° Up, 0° Down |
| Swivel | 5° Right, 5° Left |
| Pivot | 90° |
| Weight | 6.8 kg / 15.0 lbs |
| Dimensions (W x H x D) | 604 x 326 - 401 x 212 mm |