FlexScan
EIZO ScreenSlicer
<! To show Tabs sslicer - Jim Note - Code Deleted >
Handy partitioning function for widescreen monitor and multi-monitor environments
| | |
| --- | --- |
| EIZO ScreenSlicer is a desktop monitor software utility that allows an entire screen to be effectively used though partitioning. Multiple windows can be easily aligned and dropped into the partitioned areas in single- or multi-monitor environments for convenience. | |
1. Select or create your desired partition pattern
You may select from 7 pre-designed monitor partition patterns.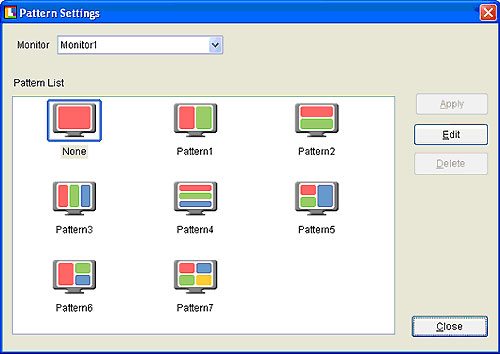 ▲ Select partition pattern
Or, create your own desired partition pattern. Partition patterns can be easily created using your mouse. Up to six boarders (gridlines) can be added and utilized per monitor.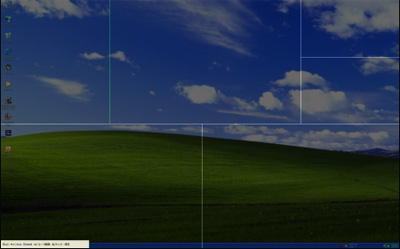 ▲ Partition pattern editing screen
2. Set windows in position
Put your cursor on the title bar and move the window while pressing the SHIFT key. Windows may be positioned by moving the mouse cursor and automatically arranged when the cursor button is released over the desired partitioned area. If the application has position detection capabilities, it will automatically reappear in the same partition window the next time it is opened.

▲ Move window to desired partition
EIZO ScreenSlicer Operating Requirements
Compatible OS
Windows Vista (32-bit, 64-bit) / XP (32-bit, 64-bit)
Compatible monitors
EIZO FlexScan, ColorEdge, and FORIS LCD Monitors
Compatibility
For use with one or more connected FlexScan LCD monitors
(In a multi-monitor environment, third party monitors may be used in conjunction with FlexScan LCD monitors.)
Some software applications may not allow for normal partition placement (e.g. software whose window size may not be altered freely, software without title bars, etc.)
EIZO ScreenSlicer Usage Examples
As shown below, several applications may be conveniently displayed and utilized simultaneously.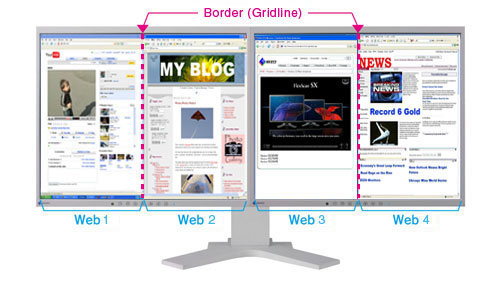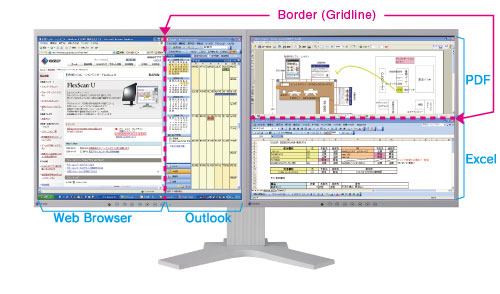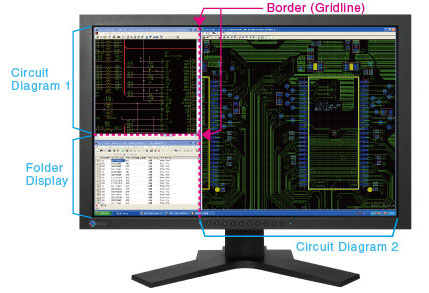 EIZO ScreenSlicer is available for download free of charge.