23" (58 cm) Hardware Calibration LCD Monitor
The color-accurate sRGB Monitor that'll make you feel like a pro.
Designed for entry-level users doing photo editing and other creative work, the CS230 offers professional features of other ColorEdge monitors like automatic color adjustment with the built-in SelfCorrection sensor and optional ColorNavigator software.
Features

Specifications

Documents

Accessories

Awards & Reviews
Color Management and Color Matching
ColorNavigator – Optional Calibration Software
| | |
| --- | --- |
| EIZO's optional ColorNavigator calibration software makes calibration simple and produces predictable color results. ColorNavigator works with a wide range of measurement devices and provides hardware calibration by directly utilizing the monitor's look-up table. The monitor's built-in correction sensor automatically maintains the calibration settings by self correcting at specific intervals determined by the user. | |
ColorNavigator Elements – Photo Color Matching Software
With this free software, you adjust your screen to color match your prints through visual perception. This is a simple color matching solution for entry-level users because no external sensor is required and the monitor automatically maintains its color settings with the built-in correction sensor.
Built-in Correction Sensor Automatically Maintains Your Settings
The CX series and CS series are equipped with a built-in correction sensor housed within the front upper bezel. This sensor records your adjustment results, and maintains the white point and brightness values by automatically readjusting the settings at specific intervals that you determine. Even if the monitor is switched off or not connected to a computer, it will stick to its preset schedule and self correct.

The built-in correction sensor works with both ColorNavigator and ColorNavigator Elements to automatically maintain your settings.


Stable Image Display Free from Environmental Influence
EIZO-Developed ASIC at the Core
All ColorEdge models come with an ASIC (application specific integrated circuit) developed by EIZO to meet the needs of the graphics market. The ASIC has its own algorithms used in high-precision color processing to produce smooth color tones.


Brightness and Color Uniformity with DUE
Fluctuations in brightness and chromaticity on different parts of the screen are a common trait of LCD monitors. To counteract this, the monitor incorporates EIZO's patented digital uniformity equalizer (DUE) technology.

Predictable Color You Can Depend on
Individually Adjusted at the Factory

The gamma level for each ColorEdge monitor is adjusted at the factory. This is accomplished by measuring the R, G, and B gamma values from 0 – 255, then using the monitor's 16-bit look-up table (LUT) to select the 256 most appropriate tones to achieve the desired value.
10-Bit Simultaneous Display
Using the DisplayPort input, the monitor offers 10-bit simultaneous color display* from a 16-bit look-up table which means it can show more than one billion colors simultaneously. This is 64 times as many colors as you get with 8-bit display which results in even smoother color gradations and reduced Delta-E between two adjacent colors.
*A graphics board and software which support 10-bit output are also necessary for 10-bit display.
Comfort and Convenience
Multiple Inputs
DisplayPort, HDMI, and DVI-I inputs are included for connecting to various types of graphics boards, The HDMI input also offers direct connection with digital cameras. Two USB upstream ports allow two computers to be connected at once so it's not necessary to reconnect the USB cable when using the ColorNavigator software and switching between the two computers.

Smooth Display of Video
For video editing or post production work, an overdrive circuit is included to reduce gray-to-gray response time to ensure that moving images look clean and sharp with a minimum of ghosting.
Adjustable Stand
Adjust the screen to the most comfortable angle for you and reposition it to show your work to a colleague or client. The monitor comes with a versatile stand that offers height, tilt, and swivel adjustments as well as portrait mode display.


Preset Modes for Optimum Viewing
6 preset modes are included: Paper, sRGB, Calibration, and three user- adjustable modes. With the bundled ScreenManager for Pro (compatible with Windows OS only), you can assign a mode to an application so that mode will automatically be come active when you call up an application.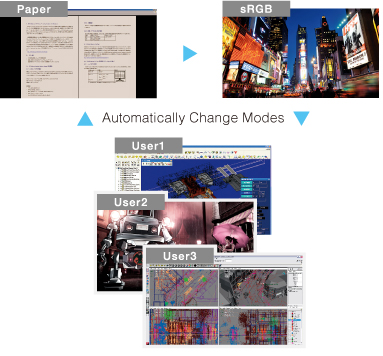 Optional Shading Hood for Portrait and Landscape Modes
Most shading hoods can only be used in landscape mode, but a unique hood that is designed for portrait mode as well is available as an option.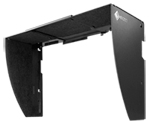 Commitment to Quality and the Environment
5-Year Warranty
The monitor is backed by a manufacturer's 5-year warranty that covers all components including the LCD panel. EIZO can do this because it manufacturers its products at its own factories. This allows EIZO to keep close control over production quality and ensure that its monitors are built to last for 5 years.
Mercury-Free LED Backlight
The LED backlight used with the LCD panel contains no mercury so it will have minimal environmental impact when it is eventually disposed of.
Zero Watts When Turned Off
When the monitor is turned off via the power button on its front bezel it consumes no electricity.
Model Variations
CS230: Monitor only (ColorNavigator not included)
Cabinet Color
Black
Panel
Type
IPS
Backlight
LED
Size
23" / 58 cm (584 mm diagonal)
Native Resolution
1920 x 1080 (16:9 aspect ratio)
Viewable Image Size (H x V)
509.2 x 286.4 mm
Pixel Pitch
0.2652 x 0.2652 mm
Grayscale Tones
DisplayPort: 1024 tones (a palette of 65281 tones)
DVI, HDMI: 256 tones (a palette of 65281 tones)
Display Colors
DisplayPort: 1.07 billion from a palette of 278 trillion
DVI, HDMI: 16.77 million from a palette of 278 trillion
Viewing Angles (H / V, typical)
178°, 178°
Brightness (typical)
300 cd/m2
Recommended Brightness for Calibration
120 cd/m2 or less
Contrast Ratio (typical)
1000:1
Response Time (typical)
10.5 ms (Gray-to-gray)
Video Signals
Input Terminals
DVI-I 29 pin (with HDCP), DisplayPort (with HDCP), HDMI (with HDCP)
Digital Scanning Frequency (H / V)
DisplayPort, DVI: 26 - 68 kHz, 23.75 - 63 Hz (VGA Text: 69 - 71 Hz)

HDMI: 15 - 68 kHz, 23.75 - 61 Hz
Analog Scanning Frequency (H / V)
26 - 68 kHz, 47.5 - 61 Hz
USB
Function
2 ports for monitor control
2-port USB hub
Standard
USB 2.0
Power
Power Requirements
AC 100 - 120 V / 200 - 240 V, 50 / 60 Hz
Maximum Power Consumption
54 W
Typical Power Consumption
21 W
Power Save Mode
Less than 0.5 W
Standby Mode
Less than 0.5 W
Power Management
Power Save (VESA DPM, DisplayPort Version 1.1a, and DVI DMPM)
Self-Correction
Yes
Features & Functions
Brightness Stabilization
Yes
Digital Uniformity Equalizer
Yes
Preset Modes
Color Mode (User1, User2, User3, Paper, sRGB, Calibration)
Auto EcoView / BrightRegulator
Yes
OSD Languages
English, German, French, Italian, Japanese, Simplified Chinese, Spanish, Swedish, Traditional Chinese
Others
Screen Adjustment (Clock, Phase, Position, Resolution, Range (Auto)), Screen Size (full screen, enlarge, normal), Color Adjustment (Brightness, Contrast, Black Level, Independent 6-Color Control, Gamma, Temperature, Saturation, Hue, Gain, Enhancer, Reset), HDMI Settings (Noise Reduction), Range Extension, Signal Switching, OSD Menu Settings, Overdrive, Mode Preset, USB Selection, Signal Info, Monitor Info, DUE Priority, Key Lock, Signal Bandwidth, Power Indicator, All Reset
Physical Specifications
Dimensions (Landscape, W x H x D)
544 x 372.5 - 526.5 x 245.5 mm
Dimensions (Portrait, W x H x D)
353 x 563.5 - 627 x 245.5 mm
Dimensions (Without Stand, W x H x D)
544 x 353 x 75 mm
Net Weight
7.5 kg / 16.5 lbs
Net Weight (Without Stand)
4.8 kg / 10.6 lbs
Height Adjustment Range
154 mm
Tilt
30° Up, 0° Down
Swivel
344°
Pivot
90°
Hole Spacing (VESA Standard)
100 x 100 mm
Environmental Requirements
Operating Temperature
0 - 35 °C
Operating Humidity (R.H., non condensing)
20 - 80 %
Certifications & Standards (Please contact EIZO for the latest information.)
CUDO certified mark, TCO Certified Displays 6.0, TUV/S, TUV/Ergonomics, TUV/GS, cTUVus, CE, c-Tick, CB, VCCI-B, FCC-B, Canadian ICES-003-B, RoHS, WEEE, GOST-R
Supplied Accessories
AC power cord, signal cables (DVI-D - DVI-D), USB cable, setup guide, EIZO LCD Utility Disk (PDF user's manual), warranty card
Warranty
Five Years 1 2 5
1 The RGB full pixel failure is zero for up to 12 months after date of purchase based on ISO 9241-307 (pixel failure class I).
2 With current LCD technology, a panel may contain a limited number of missing or flickering pixels.
5 If the monitor is left on continuously over a long period of time, dark smudges or burn-in may appear. To maximize the life of the monitor, we recommend the monitor be turned off periodically.
Brochures

ColorEdge Series (CG318-4K, CG248-4K, CG277, CG247, CX271, CX241, CS240, CS230)
2.92 MB
Color Management Handbook Version 3
9.69 MB
ColorNavigator 6 How-to-Use-Guide
1.47 MB
EIZO's Guide to a Further Enjoyment of Digital Photography
3.28 MB
Color Management with 3DCG
5.66 MB
Manuals
Languages
Document
Language
Size
Download
CS230 / CX240 (ColorNavigator Elements) Setup guide
English
Chinese-Simplified
French
German
2.01 MB
CS230 / CX240 User's manual
English
5.36 MB
UniColor Pro 1.5.1 (English)
English
914 KB
CX240 / CS230 (ColorNavigator) Setup guide
English
Chinese-Simplified
French
German
7.88 MB
ColorNavigator Elements User's manual
English
4.92 MB
ColorNavigator Ver.6.4.9 User's manual
English
6.14 MB
CS230 / CX240 Setup guide
Arabic
2.1 MB
CS230 / CX240 User's manual
Chinese-Simplified
5.2 MB
CS230 / CX240 Setup guide
Chinese-Traditional
2.12 MB
CS230 / CX240 Setup guide
Czech
2.06 MB
CS230 / CX240 User's manual
Czech
1.36 MB
CS230 / CX240 Setup guide
Danish
2.05 MB
CS230 / CX240 Setup guide
Dutch
2.06 MB
CS230 / CX240 Setup guide
Finnish
2.06 MB
CS230 / CX240 User's manual
French
5.46 MB
CS230 / CX240 User's manual
German
5.38 MB
ColorNavigator Elements User's manual
German
4.77 MB
CS230 / CX240 Setup guide
Greek
2.07 MB
CS230 / CX240 Setup guide
Italian
2.06 MB
CS230 / CX240 Setup guide
Korean
2.13 MB
CS230 / CX240 Setup guide
Norwegian
2.07 MB
CS230 / CX240 Setup guide
Polish
2.07 MB
CS230 / CX240 Setup guide
Portuguese
2.06 MB
CS230 / CX240 Setup guide
Russian
2.07 MB
CX240 / CS230 User's manual
Russian
5.41 MB
CS230 / CX240 Setup guide
Spanish
2.07 MB
CS230 / CX240 Setup guide
Swedish
2.07 MB
CS230 / CX240 Setup guide
Turkish
2.07 MB
CS230 / CX240 Setup guide
Hungarian
501 KB
Arms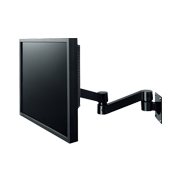 Position the monitor almost anywhere with forward/backward and side-to-side movement
Arms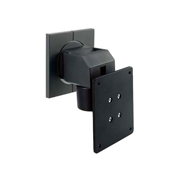 35° up tilt and 180° swivel wide adjustment range

Monitor Hood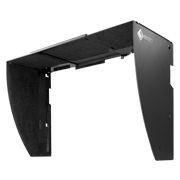 For ColorEdge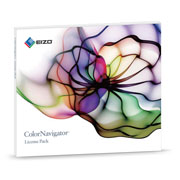 - Optional package with activation key for CS and CX series monitors.
January, 2013

Editor's Choice 9/10 Stars

"If you're serious about your colour workflow management, these monitors can help you to obtain accurate, predictable and stable control of your editing desktop viewing area."